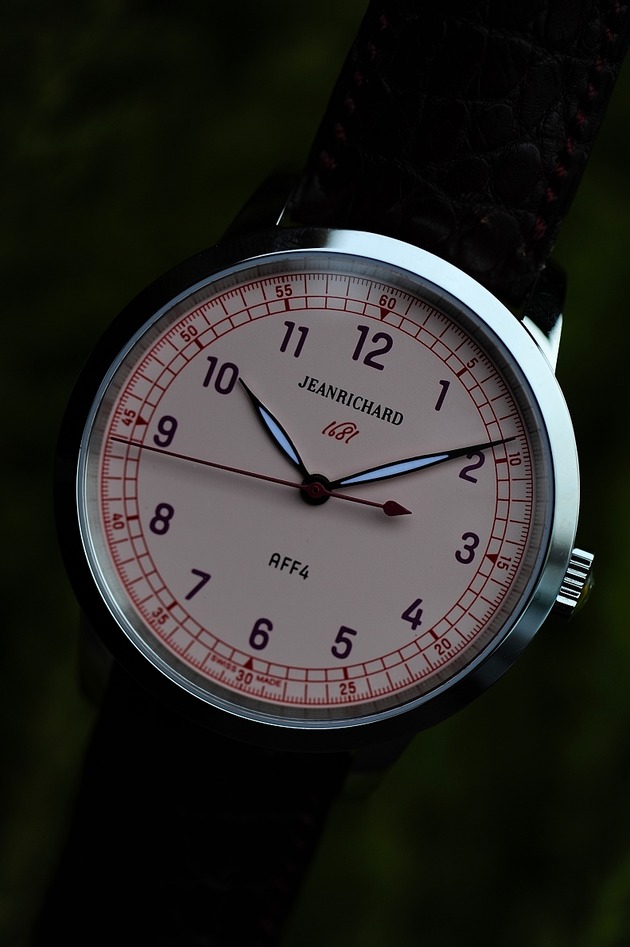 JEAN RICHARD 1681 RONDE
AFF Limited model
JEAN RICHARD 1681 RONDE
AFF Limited model 4Colors
Thank you for the
AFF 20th anniversary
Special mechanical
watch for the minority
This Jean Richard's
parent company GP
To hear the Girard-Perregaux, Inc.
Nobody is that the name
recognition and decent name to know, but,
DJ with this company until just a little
before had been called so.
And I was the name of a company
called Daniel / Jean Richard.
You know people you know but,
Commonplace thing of, but is the name
people you do not know much that is not known.
Actually here as most this mechanical watch,
And is also a big attraction.
Is a place that is not known towards too much,
I dressed goodness that stimulate-to-gratification.
Because the parent company's
the that Girard-Perregaux, Inc.,
Here supply the heart
with Nanahikari of big name parent graces
It is not in the location, there delicious up,
but Girard-Perregaux made of company
Luxury to the built-in also
Mani file couture special movement.
Charge 48 hours self-winding movement of
JR1000 Equipped with caliber.
It is of more of the excellent
Naru heart accurate to see rare.
100% Swiss domestic production
By multiplying the time and development
period of about four years
Costs and introduction of development
funds about 500 million yen.
Announced a full-house production Movement
Achieve cost performance of wonders
I was allowed to develop a heart JR1000.
Parts made from these movement design
I was completely our own integrated production to assembly
I will continue to stick to thoroughly "MADE IN SWISS".
SWISS MADE and MADE IN Although
it is the difference of SWISS,
SWISS MADE: OK if more than 60%
of the production cost is made of Swiss
MADE IN SWISS: must be 100% in Switzerland
Same as GIRARD-PERREGAUX
KERING is a brand belonging to the GROUP.
JEANRICHARD (Jean Richard)
JEAN RICHARD 1681 RONDE
AFF Limited model 4Colors
Thank you for the
AFF 20th anniversary
Special mechanical
watch for the minority
It is a little earlier, but as simple as possible
I was longing to 3 hands clock of ultra-thin models.
Sophisticated model in the adult sense in that
I tried thinking Forget white gold model of GP 1966.
Naming of the GP,
Girard-Perregaux's jewels in substantially in the.
Favorite, 1966 small second model,
Amounts case material is white gold,
Somewhat Takamine Hana state also has a yen 2,231,000 that.
If stretch but might never can not buy never,
It is of a price zone that courage is present in the decision a little.
And jewels than subtly of the high price becomes price range.
Pink AFF-4 you chose the trainees Mikami is
What jewels a runaway popular mind.
There is only a slight 24 in the world
It is of a rare pink mechanical watches.
Heart of Girard-Perregaux, Inc.
Mechanical movement JR1000 is included.
Contents in the GP outside of 41mm diameter
It is adopted a relatively thin a movement case.
The AFF-4 is popular in secretly among women,
Men women even without discomfort wearing also wearing
Exactly ideal 1681 RONDE Limited model
Mikami was hope the number 23 in commemoration of 23 years of age.
JEANRICHARD is, to the quality of

this GP's products in the same,

I was reviewing the criteria for the first time

of mechanical Swiss watches.

That is the major factor that you have to realize

the cost performance of wonders.

AFF Limited 1681 series of this JR RONDE,

As the entry line from price range of 460,000

I was allowed to standby the collection.

GP: Good Price JR: Revolution of Japan




Good Price 460,000 yen


Achieve at reasonable pricing 460,000 yen



GP Girard-Perregaux 1966

In view calendar window without simple Ao no baked needle

Small seconds has been laid beneath.

Easily and it was white dial in number index also good font.

The elegant adult atmosphere irresistible casually!

I quite get was difficult in the area of longing even if they want to get.

So jewels a 41mm size of JEAN RICHRAD.

Commonality of outer diameter size and overall atmosphere and heart parts.

1mm size difference charm of!

Into four patterns of flow in the AFF original

Thus curiosity is gradually but went to expand.

Selling price of a single

2,231,000 yen price unit price In the present does not quite put out a hand,

It is put out the wonder and hands to 47,692,800 yen pieces of a total of 96.

Money sense is not may mean just the good there is much are paralyzed.



JEAN RICHARD 1681 RONDE
AFF Limited model
Purchase during handling in the following stores
AFF1 Auto Fashion Factory Yokohama
Thanks to its inception in '20
Co., Ltd. Auto Fashion Factory Yokohama AFF1
Yokohama, Kanagawa Prefecture Tsuzuki-ku Hayabuchi 3-31-1
045-591-0888
AM: 11: 30 ~ PM: 21: 00
Thursday regular holiday
AFF3 Mechanical Tokyo
Tokyo just right in the middle
Co., Ltd. Auto Fashion Factory Tokyo Tower 3 shop
Tokyo, Minato-ku, Shiba Park 3-6-23 halo Kaikan Building 1F
03-6459-0831
Representative Director Toshifumi
Kako
AM: 11: 30 ~ PM: 20: 00